Músicas de Dawson's Creek – 1ª Primeira Temporada
Confira as músicas que tocaram na primeira temporada de Dawson's Creek.
– Música Tema de Dawnson's Creek
I Don't Want to Wait da Paula Cole
– Episódio 1 (Pilot)
Hey Pretty Girl por The Bodeans – Jen andando até Dawson, Pacey e Joey que estão filmando
As I Lay Me Down por Sophie B. Hawkins – Jen sentada sozinha, Dawson vai até ela
Tubthumping por Chumbawamba – cenas do colégio, antes de Nellie conhecer Jen; repete quando Pacey está na sala com o livro na cabeça
Mercy Me por Say-So – Dawson, Jen e Joey na cantina no colégio
Good Mother por Jann Arden – Bessie colocando batom em Joey; os quatro andando na rua
I'll Stand By You por The Pretenders – depois de Joey perguntar para Dawson sobre cachorro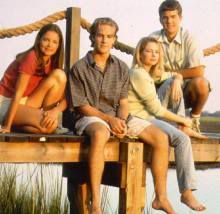 – Episódio 2 (Dance)
Am I Cool por Nowhere Blossoms – cena do corredor, antes de Dawson falar com Mr. Gold.
Flames of Truth por Sarah Masen – Jen limpa o sangue falso na Joey e comenta sobre o corpo dela
I Want You por Savage Garden – primeira cena na dança do colégio; Cliff e Jen começam a dançar, Pacey conversa com Ms Jacob
Happiness por Abra Moore – Dawson e Joey dançam música lenta, Dawson procura Jen
Ooh, Ahh…Just A Little Bit por Peer – 

Dawson segue Jen depois dela parar de dançar com Cliff

Pretty Strange por Paul Chiten – Dawson e Joey conversam em uma mesa, ele fala sobre Jen, Joey levanta e vai embora
Apple por The Autumns – Dawson tenta interromper Cliff e Jen dançando
But You por Paul Chiten – Mr e Mrs Leery na cozinha relembrando o primeiro beijo
You Don't Know Me por Jann Arden – quase no final, Jen e Dawson dançando no pier
– Episódio 3 (Kiss)
First Time por Billie Myers – cenas do colégio no início
Kingdom por The Slugs – Dawson andando de bicicleta
Too Many Times por Wake Ooloo – Dawson colocando adesivos nos capacetes para o projeto do filme, Jen chega e fala com ele, Cliff interrompe
The Right Place por Eddi Reader – Joey e Anderson no barco indo para ilha, depois jogando frisbee
Pretty Deep por Tanya Donelly – Jen, Dawson e Joey no bar, Anderson chega e Joey finge que não trabalha lá
All I Want por Toad The Wet Sprocket – Jen e Dawson filmando
I"ll Remember You por Sophie Zelmani – no barco, Anderson e Joey se beijam
What Would Happen por Meredith Brooks – final do episódio, Jen e Dawson se beijam
– Episódio 4 (Discovery)
Beautiful Thing por Kyf Brewer – início do episódio, Dawson assiste filme de Jen e Joey no seu quarto
Top Of Morning por The Hang Ups – os quatro no bar conversando sobre Tamara 
I Know por Barenaked Ladies – Joey e Dawson andando na rua
Amnesia por Toad The Wet Sprocket – Dawson vê sua mãe beijando Bob
World Outside por The Devlins – Pacey deixa a bicicleta na frente da locadora, ele vê Tamara e Mr Gold no café
That's What Love Can Do por Tom Snow – Dawson desliga o rádio quando vai contar para seu pai sobre o namorado de sua mãe
Stand By Me por Say-So – Jen e Joey no restaurante, Jen pede conselhos a Dawson
Full Of Grace por Sarah McLachlan – final do episódio, Joey e Dawson sentados perto da água conversando
– Episódio 5 (Hurricane)
Healing Hands por Marc Cohn – início do episódio, Joey e Dawson assistindo TV; repete no final do episódio, Mitch e Gail conversando
It's The End Of The World por R.E.M.
– Episódio 6 (Baby)
Sitting On Top Of The World por Amanda Marshall – Bessy, Bodie e Joey na cozinha
Insecuriosity por Andrew Dorff – Pacey no corredor do colégio, depois de descobrir dos boatos sobre ele e Tamara
All I Want por Susanna Hoffs – Miss Jacobs dirigindo
Seven Shades Of Blue por Beth Nielsen Chapman – Joey segurando o bebê, Pacey andando na praia
– Episódio 7 (Detention)
Stupid por Chickenpox – Joey na frente da sala no mapa, Dawson vê Jen e Pacey coversando no corredor e rindo
Saturday por Colony – repete várias cenas
A Lot Like You por Colony – galera indo ao banheiro
Grace por Michelle Malone – Joey e Dawson se beijando
Will Tomorrow Ever Come por Dance Hall Crashers – galera decide voltar para a biblioteca
– Episódio 8 (Boyfriend)
We'll Get Through por The Slugs – Billy quase passa por cima de Pacey
Being Right por Cush – Jen conversa com Billy no corredor do colégio
Dammit do Blink-182 – festa na praia
Elegantly Wasted do INXS – Joey bêbada na festa da praia
Green Apples por Chantal Kreviazuk – Mr e Mrs Leery dançando
Evaporated do Ben Folds Five – final do episódio, Jen se separa de Dawson
– Episódio 9 (Road Trip)
Truly, Madly, Deeply do Savage Garden – início do episódio, Dawson na cama com a Joey; repete no final, Joey esperando Dawson no quarto
Touch, Peel & Stand do Days of the New – Billy sobe escada para quarto da Jen; repete quando ele sai pela janela
We Are the Supercool do Space Monkeys – Dawson e Billy conversam no carro; repete depois quando Billy encontra Jen no corredor do colégio
Requiem por The Slugs – Joey no carro com Warren
Your Pleasure's Mine por Super Deluxe – na balsa, Dawson embaixo do carro
Carry Me por Boom Hank – música no bar, Pacey joga sinuca
I'm Not Sleeping por Nowhere Blossoms – Warren em seu armário arrancando os adesivos
Nashville por Judge Nothing – no bar
I Don't Want to Feel por Sounder – Dawson se apresenta para uma garota no bar
Monkey Mind por Judge Nothing – Dawson conversa com a garota no bar, Billy aparece
Right Today por Swerve – Dawson, Billy e Paceu no bar
Thinking Out Loud por Ron Sexsmith – Dawson e Joey sentados no banco, Jen e Joey comendo sorvete
– Episódio 10 (Double Date)
Come Back por Vaporhead – Dawson pára no corredor para falar com Jen
She por Louie Says – Jen e Dawson concordam com o encontro duplo; repete quando Dawson e Mary Beth conversam no carro
What's Goin' On por Shelby Craft – Pacey e Dawson na fila da cafeteria
I'm The Only One da Melissa Etheridge – Pacey olha pelo espelho a Joey trocando as roupas molhadas (música escutada somente na versão dos Estados Unidos/Canadá, outros países a música que tocou foi a I Wanna Be Your Underwear do Bryan Adams)
I Wanna Be Your Underwear do Bryan Adams – Pacey olha pelo espelho a Joey trocando as roupas molhadas
Hangin' By A Thread por Jann Arden – Jen e Dawson na roda gigante
She's The One por World Party – Pacey dá carona para Joey para casa
– Episódio 11 (The Scare)
Nobody Cares por Vaporhead – Pacey e Dawson no corredor do colégio
Will U Drive Me? por The Rosenbergs – Joey entra na varanda do Dawson; repete quando Pacey pega eles no jeep para ir ao mercado
Do You Dream? por Mary Thornton/Adam Castillo – Jen e Dawson no quarto dele conversando quase se beijam
Temptation por The Tea Party – Cliff levando Jen até em casa; Pacey checa o mato antes de entrar no carro
– Episódio 12 (Beauty Contest)
Small Town Trap por Eve 6 – abertura no Ice House
Girl With All The Goodbyes por Susan Sandberg – Pacey e Dawson conversam perto dos armários
Pretty Face por Chickenpox – Pacey no encontro das concorrentes co concurso
New York, New York pelo Joshua Jackson – Pacey canta um pedaço dessa música para Dawson e Mitch para saber se canta no concurso
Fall From Grace por Amanda Marshall – Pacey no palco do concurso
Superman por Goldfinger – Pacey no palco
On My Own pela Katie Holmes (do musical Os Miseráveis) – Joey canta sua música no concurso
Surrounded por Chantal Kreviazuk – Dawson e Joey no pier depois do fim do concurso
– Episódio 13 (Decisions)

What Do You Do? por Dog's Eye View – Pacey andando de bicicleta, Doug aparece no carro de polícia
Angel da Sarah McLachlan – Jen e Dawson deitados na cama do Dawson; repete depois quando Joey conversa com seu pai
I'll Be por Edwin McCain – Joey encontra Dawson e Jen na cama
Broken Road por Melodie Crittenden – Dawson procura Joey pela cidade
Say Goodnight por Beth Nielsen Chapman – Dawson e Jowy se beijam no final do episódio